Formula E could adopt more weekday race dates should COVID-19 also disrupt the 2020-21 calendar, according to championship CEO Jamie Reigle.
Nine of the 14 scheduled rounds for the 2019-20 FE season were cancelled due to the pandemic, and the championship was officially suspended for three months.
It resumed with six races held at the Tempelhof Airport in Berlin, split across three double-headers – the first and last of which took place over Wednesday and Thursday evenings.
The 2020-21 FE calendar has been approved by the FIA, reverting to the usual Saturday slots, albeit with two Sunday races for the Diriyah and London double-headers.
When asked by Autosport if FE would consider further midweek race dates should the calendar face disruption, Reigle said: "When I look to season seven, plan A is the calendar we've put out, which is approved by the FIA.
"We're going to work really hard to deliver that calendar. But of course, we have an obligation to have a plan B and plan C.
"The good news is, it's not like this year where the pandemic sort of bubbled along and then hit us, then it was a period of scrambling. We've got plenty of time to plan.
"Now we know that, with Berlin as an example, we can pull that off.
"Do I think we'll do six races in the same venue in the space of a week again? No.
"Do I think we might do some double headers or some triple headers if necessary? And could those happen on a weekday? Yes."
Reigle, the former commercial director of Manchester United, added that the series could follow the Premier League and its proliferation of non-weekend fixtures.
"What you've seen from the media companies' perspective is live sport is one of the few things that really attracts a predictable, meaningful audience," he said.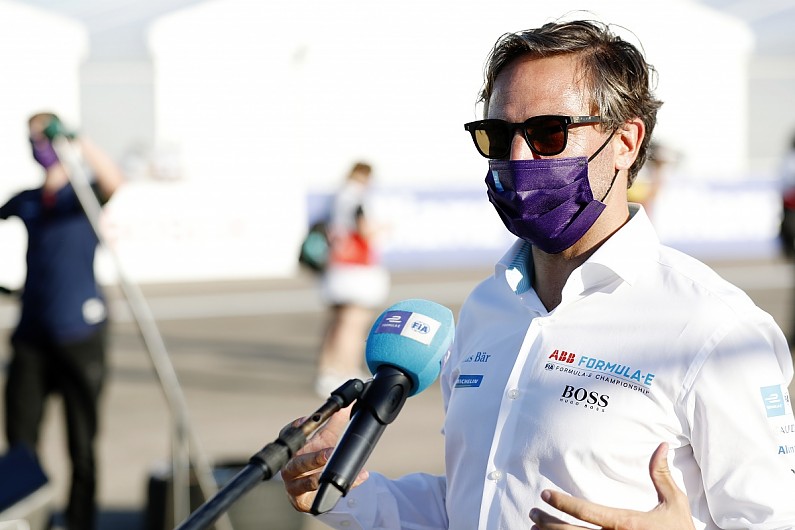 "The sport is looking to grow their audience and so perhaps there's a desire to move to other days.
"From a media company perspective, there's a pull there as well, because they've got good visibility – certainly, if it's a property like the Premier League, which has a huge fan base.
"We had our races on Wednesdays and Thursdays and the audience figures actually were pretty solid.
"I would still say, the Saturday/Sunday slots are more attractive but I do believe that you can you can ship things around."
PLUS: The top 10 Formula E drivers of 2019-20
A move to occasional midweek events has support from team bosses, including BMW Andretti principal Roger Griffiths and Nissan global motorsports director Tommaso Volpe.
Venturi Racing team principal Susie Wolff said FE should not be afraid to continue its precedent for experimenting with a traditional race format.
She said: "What Formula E have been great in is, because they're like a small start-up, they're willing to take risks and to do things differently.
"So, if they see that there's been advantages to racing midweek then why not?
"It's something that we can definitely be open to. We don't need to be traditionally racing on weekends."