Six-time Formula 1 world champion Lewis Hamilton says his Extreme E team will focus on creating opportunities for mechanics and engineers from minority ethnic backgrounds, potentially via a scholarship programme.
Hamilton's X44 XE squad – his first foray in motorsport team ownership – was revealed earlier this month in a major coup for the electric off-road SUV racing series, which is set to get underway in 2021, although delayed to March from its original launch date next January.
The Mercedes driver will not race for X44, but is currently creating its organisation, which he explained is still "in the early stages".
When asked about the process of forming the team by Autosport, Hamilton said: "In terms of recruitment, we're already working on that now, trying to find and create opportunities, particularly for minorities – you don't see very many in the paddock in terms of mechanics and engineers.
"We're looking at potentially working with the Royal Academy of Engineering in London.
"Hopefully the commission [The Hamilton Commission, created in partnership with the RAE] will also contribute to us doing a better job, and understanding the barriers.
"We're hopefully going to be working on scholarship programmes, so we have youngsters coming through."
Regarding the team's drivers, which must include a male and a female driver in a two-person line-up per XE's rules, Hamilton is yet to decide on his preferred approach when it comes to experience levels.
"In terms of the drivers, I haven't decided yet whether I'll be taking on super experience or I'll be giving a couple of youngsters a go – I don't know yet," he said at the Tuscan GP.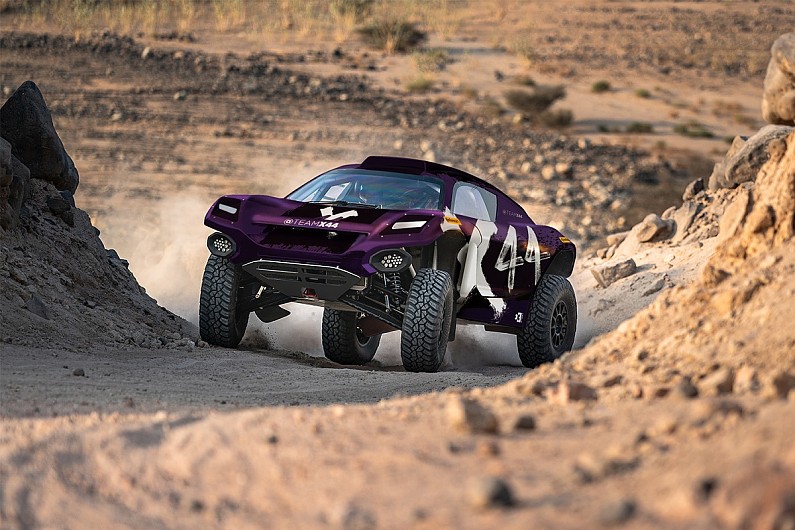 "It's an exciting prospect and the whole build up has been exciting so far."
Hamilton also stated "I said that we needed to have females in it, so we've got female drivers now, which is awesome", adding: "I'm glad that I can contribute in a positive way hopefully."
When asked to confirm Hamilton's explanation by Autosport, an XE spokesperson said: "Lewis and his team have been actively involved in the discussions around XE that have helped shape the format"
XE team ownership among Hamilton's "rest of life changes"
Hamilton explained that his decision to create X44 was part of "long-term, rest of life changes that I'm making in my life", and said that XE's aim of using electric motorsport to highlight the impact of the climate crisis is "very much aligned with what I'm really focussed on right now".
He then offered a response to those who accuse him of hypocrisy by racing in F1 while promoting environmentalism.
He said: "It's difficult because there are people who are like 'yeah, but you race a Formula 1 car around every weekend'.
"I think ultimately probably some of it is education, because not everyone knows the footprint that our sport currently has and what we're doing in terms of trying to improve that.
"But what I've tried to say is 'look, I'm making a lot of changes in my personal life'.
"Like, I don't drive any of the cars that I own any more – I only drive my EQC [Mercedes road-going SUV] – and I have a Smart electric [car].
"And if I get picked up at the airports I request to have an electric car – it's not always [an] electric car that can fit all my luggage in!
"I'm trying my best, whilst still I'm doing what I love doing, and I think helping to put pressure on people here in [F1] – because they've got lots of areas which we can be way more sustainable.
"I think I've got more power to shift it from within, rather than retire and do it from that side."