Andretti Autosport wants to remain in Formula E beyond BMW's exit from the championship and is open to forming an alliance with another manufacturer.
BMW made a surprise announcement on Wednesday night that it will leave the electric championship at the end of the 2020-21 season, having "essentially exhausted the opportunities" to develop its technologies within Formula E.
Autosport understands that team staff had been totally unaware of the marque's decision to quit, only finding out when the news was made public.
The official communication came just two days after Audi declared its intention to quit FE at the end of the campaign, but it will continue to supply powertrains to customer team Envision Virgin Racing.
PLUS: Why BMW and Audi have pulled the plug on Formula E
Autosport understands that Andretti Autosport emphatically wants to remain in FE beyond BMW's departure, while BMW has said it is "discussing options" to supply the American squad with powertrains for 2021-22.
Team principal Roger Griffiths has told Autosport that the team is "disappointed" by news of BMW's decision and will consider a future alliance with another manufacturer.
When asked what Andretti's reaction was to BMW's shock announcement, Griffiths said: "[We're] obviously disappointed that they are leaving; we have had a long partnership with them, extending back almost to the beginning of Formula E, which has seen a lot of success.
"But we also understand that they have other priorities beyond racing.
"We respect that and will be pushing as hard as we can to make the last season together our most successful one."
The news came only a day after BMW Andretti driver Maximilian Guenther topped FE pre-season testing at the Circuit Ricardo Tormo in Valencia for the second year in succession.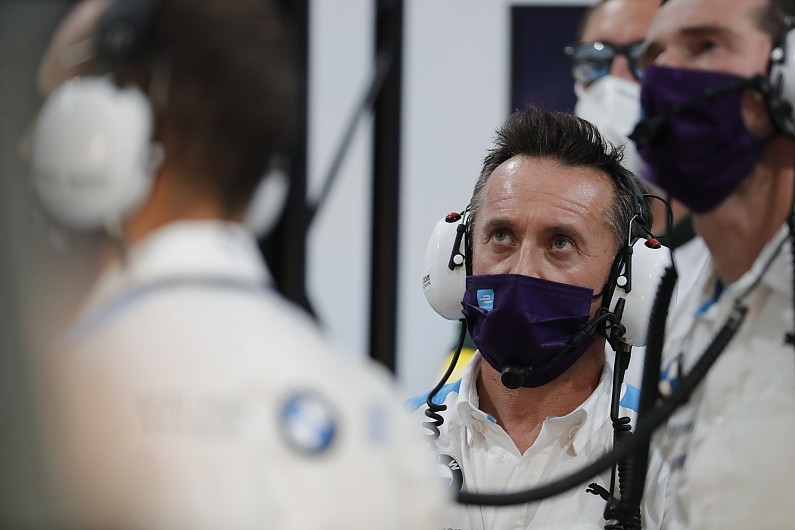 Griffiths added that a powertrain supply deal with BMW "certainly would be the most straightforward option and we know that the powertrain is very competitive".
When Autosport asked Griffiths if Andretti would be open to another alliance with a manufacturer in FE in the future, he said: "Yes, of course.
"We have or have had relationships with various OEMs across our multiple programmes and are very much used to working directly with an OEM.
"Our experience of Formula E, along with the recognition of the Andretti brand, would certainly be an asset to any OEM looking to enter or even continue but on a different path, in Formula E."
Two-time E-Prix winner Guenther posted on Twitter in reaction: "The news about BMW's Formula E exit after the 2021 season comes as a surprise and is a pity.
"Nevertheless, our ambitions for the new season in the Formula E World Championship are not affected.
"The focus is on my upcoming tasks in 2021 and I can't wait to finally race again after the successful test days in Valencia."
Autosport has produced a standalone special magazine to celebrate our 70th birthday. All current print subscribers will receive a copy for free. To order your copy of the 196-page Autosport 70th Anniversary issue, please go to: autosport.com/autosport70th